WINE & DINE
1. Local Market, Groceries
& Drinks
2. Good Food Guide
--> Home


site sponsored by
Cook Islands Television

contact us
Webcentral
There are 3 sections to the market, the huts on the back end, the pie carts and people selling from their vehicles.

The huts are the newest addition to the local market and are mainly owned by market regulars. In the past, everyone sold from the back of their trucks. Most huts are plain, but you will find the odd decorated one. These sell everything local from fresh vegetables and cooked food to pareu's (sarongs) to carvings to local music which is also blaring away in the background.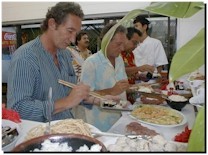 Polynesian-Japanese Sushi Restaurant
If its pies you want, then its not the pie carts (caravans) you go to. You will be surprised to find that most of these pie carts double up as a hamburger joint, fish & chip shop, asian food shop and local favourites shop all in one. While the service and taste varies from pie cart to pie cart, you can always be sure of a good size serving. You can normally tell the popular ones by the number of people at them especially on Saturday mornings, lunch time and dinner time during the week.
The Punanga Nui or local market springs to life early Saturday morning. The difference between a Saturday and a weekday, is the local planters, fisherman bring their goods to the market on Saturday mornings and everyone picks up their weekly fresh vegetables, fruit, fish both fresh and smoked and local delicacies. If you knew how long it took to prepare local delicacies you will understand why the local men and women quickly snap up the containers of rukau (like spinach), mitiore (grated coconut and shellfish meat marinated in crab juice), poke (a sort of jelly-like banana cake), ika mata (raw fish marinated in lemon and served with coconut cream) and other sought after food like curry chicken and rice. Its also a good opportunity to give cooking a miss. Some visitors enjoy the local food and some don't, so its really up to you, and at $5 a container you could always throw it away if you don't like it. It would also be a good idea to buy earlier on in the morning, not after 10am when the food would have been exposed to the sun and may cause stomach upsets.

Tamarind House
Fine Pacific dining on the waterfront. Perfect spot for brunch, lunch, dinner. Fantastic wedding and special function venue.
Phone: (682) 26487
If the warm weather or your thirst sends you seeking for the ultimate thirst quencher then grab a nu (drinking coconut), at $2 per nu you won't regret that cool refreshingly sweet taste. You should grab a nu regardless, after all its all part of that island experience, even take a couple back to your accommodation if you have a fridge, they last up to a week refridgerated but its best to drink them within two days of picking (they sell them freshly husked at the market). And for the sweet tooth in most of us, there are some delicious cakes (including chocolate and banana) and fruit smoothies. Be sure to pick up a few pawpaws (papaya's), these are about 20cents to $1 each and sun-riped so the natural flavours come out when you put the flesh in your mouth. Papaya is also good for your skin, heartburn and available all year around. Banana's are also a must for the shopping basket. If you want seasonal mangoes and watermelons, then you have to visit from December to February.

For a traditional Polynesian massage, you will find a masseur hidden away in one of the huts, but he is very popular on Saturdays, although you can visit him at his home where he conducts most of his business.

Some Saturdays, the market has local bands performing and sports teams selling raffles. This all adds to the excitement of the Saturday morning market.

The bus stops at the market. And remember, if you are looking for something ask the locals, they are friendly and always try to help.

It is best to pick up spirits in the Duty Free. But for beer and wine check out the local liquor stores, the Bond Store and CITC Liquor Store, or any of the local shops around the island. The selection is wide and predominantly Australian and New Zealand. Prices are competitive. Also, if you like a number of exotic cocktails are prepared at the major bars and resorts, some contain coconut juice.

For the do it yourself meal, fresh vegetables and other groceries can be picked up from Meatco, Foodland and CITC Supermarkets, or any of the little shops.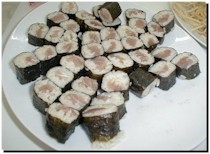 Sushi using locally caught tuna