WINE & DINE
1. Local Market, Groceries
& Drinks
2. Good Food Guide
--> Home

site sponsored by
Cook Islands Television

contact us
Webcentral
Dinner@ TraderJacks
Set overlooking Avarua Harbour, Traders boasts to be No. 1 in seafood, although you can order steak, lamb and other exotic dishes. The food is good, so is the atmosphere, though the service is on Cook Islands time, but that shouldn't worry you as a visitor, after all you have all the time in the world. Traders is open for lunch, dinner and snacks. Otherwise, cool off by the bar or dance the night away to live bands. NZ$10-25 (US$5-12.50).

Dinner@ Metua'sCafe
If you are after an affordable but wholesome meal (breakfast, lunch, dinner), then try this cafe. The setting is something to be desired, but the servings are extremely generous. The best thing on the menu is the sweet n sour fish on rice. The fish is deepfried but the batter is the best I've tasted on the island. NZ$4-15 (US$2-7.50).

Dinner@ SandalsRestaurant
Apart from the good food, the best thing about Sandals is the atmosphere. Right on Muri beach, Sandals is the Pacific Resort restaurant. Choose to sit in the bar with coconut trees protruding through the roof and the beach outside your window, or in the restaurant set on a man-made stream abundant with various species of fish. Don't be surprised if you get served lasagne or potato chips from a packet, in the absence of the real stuff. But oysters kilpatrick and other seafood dishes are good. Compliments go to the chef, but you pay for what you get. NZ$15-50 (US$7.50-25).

Dinner@ StaircaseRestaurant&Bar
The first lesson for eating here is to turn up early, especially if its Thursday night: Island Night. Thursday nights are a full house, but you can beg for a spot by the bar which gives you a good view of the entire restaurant. Offerings feature steak, or you can be a bit more daring and try the island basket with a selection of chicken, pork, rukau (like spinach), taro (kind of root crop), breadfruit, marinated raw fish and chop suey. It is ok to use your fingers to eat and its the best way. But another word of advice, order as soon as you get there, otherwise your order will get lost in the hustle and bustle. The dance show is by Te Manava, a smallish group (perhaps adjusted on account of the Staircase floor space). But a minor shuffling of chairs and tables allow the dancers to perform gracefully and energetically. NZ$15-30 (US$7.50-15).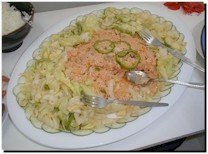 Polynesian-Japanese Rice Dish
Breakfast@ CooksCornerCafe
In the most convenient of spots, the main bus depot in the center of town, this roadside cafe serves all day breakfast and lunch to your liking. In particular, they do eggs every kind of way: fried, scrambled and omelette, or the healthy favourite, poached. The CC Cafe breakfast combo's feature a broad selection and for a filling meal, try your eggs with either mushrooms, bacon, sausages, grilled tomatoes, or something radical like fish, baked beans and spaghetti. This cafe is an excellent people-watching venue (on account of the bus terminal). NZ$6-15 (US$3-7.50).
Lunch@ theAirportCafe
Looking for a roast lunch of lamb or, chicken? For a filling and tasty meal, that is value for money pop down to the Airport Cafe. They also have lasagne and other normal lunch foods, like quiches, sandwiches/rolls and pies. To top it off, the Airport Cafe is licensed so you can have a beer or milkshake. But take my advice this cafe is frequented by locals and you have to be early to get your choice. NZ$6-10 (US$3-5).
Lunch@ Moana'sTakeaway
There's more than one reason to venture down to the Punanga Nui (local market) - but the best reason is food. Beyond the norm, Moana's Takeaways serves up a cracking good plate of Chinese: Chow Mein, Fried Rice, Curry, Black Bean. There's also steak, fish and chips and burgers of all descriptions. And in true market style, the servings are big and more than enough for one sitting. Though on Saturday mornings you may find yourself lining up for a meal. Open 8am-10pm Mon-Fri, Sat; till 1am Fri nite/Sat morn. NZ$4-10 (US$2-5).
Lunch@ theGardenLunchBar
Opposite the JUHI near the airport, this once grocery outlet turned lunch bar offers an excellent choice of a wide ranged or prepared food. Drop in and check out the specials daily, such as roast lamb shanks with mashed potato, carrots and gravy. Or lasagne, garlic bread and salad. Also on offer, homemade pies, sandwiches, hot dogs, burgers, fish and chips, and kebabs. Open 10.30am-2.30pm Mon-Fri. NZ$2-10 (US$1-5).