WEDDINGS
--> Home


site sponsored by
Cook Islands Television

contact us
Webcentral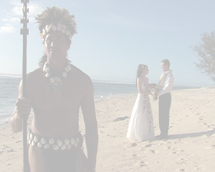 The lazy coconut trees, sound of lapping water, the warm golden white sand, the orange sun slowly sinking below the horizon, the sky with its yellow-pink-orange-red-purple lining calms the nerves as the words "Brian, do you take Amanda to be your lawfully wedded wife, to have, to hold..." echoes in the cool salty breeze.
Heaven has that effect on people, or so they say. And where is heaven? the Cook Islands, of course. Rarotonga for the wedding ceremony, Aitutaki for the honeymoon, no other combination comes close.
Beaches - Rarotonga has several idyllic spots. Striking red-orange sunset beaches along Vaimaanga and Rutaki, or, dreamy protecting beaches on the islets in Muri lagoon. The choice is difficult.
Several major resorts and some tour operators offer several types of packages for both weddings and renewal of vows.
The simplest of packages consists of a beach ceremony, garlands of flowers, an arch of tropical flowers, sparkling champagne, planting a coconut tree and dinner.
To which one can add local ukelele entertainers, pulsating drums and exotic dancers, a traditional platform (paata) on which to be carried (a right reserved only to traditional chiefs) and other little island touches.

Often couples come alone. A wedding video and photographs normally allow couples to share their special moment with friends and family back home. Mana Productions produces wedding videos either at the request of the couple, or through a package offered by the major resorts and tour operators.

See the following websites for more information, else ask a travel agent.

Rarotongan Resort Packages
Edgewater Resort Packages
Capt. Tama's Cruises
Jetsave Weddings
Wedded Bliss

Pacific Bride - Hair & Makeup for Weddings

For that honeymoon, stay in Rarotonga, else if the budget allows, fly over to Aitutaki where the largest, most beautiful lagoon in the Pacific is. The Aitutaki Lagoon Resort offers bungalows directly on the beach of a secluded island.